Online Wilderness First Responder
Also valid as Wilderness-EMT upgrade.
The recognized industry standard for backcountry trip leaders, camp counselors, mountain guides, river guides, ski patrollers, and anyone else who works or plays in the outdoors.
INCLUDES FREE OPTIONAL ENROLLMENT IN U OF UTAH'S ASSOCIATE IN WILDERNESS MEDICINE PROGRAM—ONLY THROUGH SURVIVAL MED
Completely online: pause, rewind, or double speed.
This is a 16-part course that teaches how to care for patients in remote locations or challenging weather, with questionable communication and support, improvised equipment, and limited time for decisions.
20+ Hours of Wilderness Lectures
Patient assessment, Basic Life Support, Circulatory System, Respiratory System, Nervous System, Trauma, Environmental Medicine, Animals and Insects, Medical-Legal, and more.  Course also includes textbook and 40+ hours of supplemental podcasts.
Test your knowledge with real-life cases and challenging medical scenarios.  Make treatment and evacuation decisions based on the signs, symptoms, available gear, and environmental conditions.
Improvise tourniquets, splints, bleed stoppers, spinal stabilization, litters, hypothermia wraps, and more with items around you.  Submit photos and videos to the course instructors and get feedback.  There is no need for extra equipment purchases.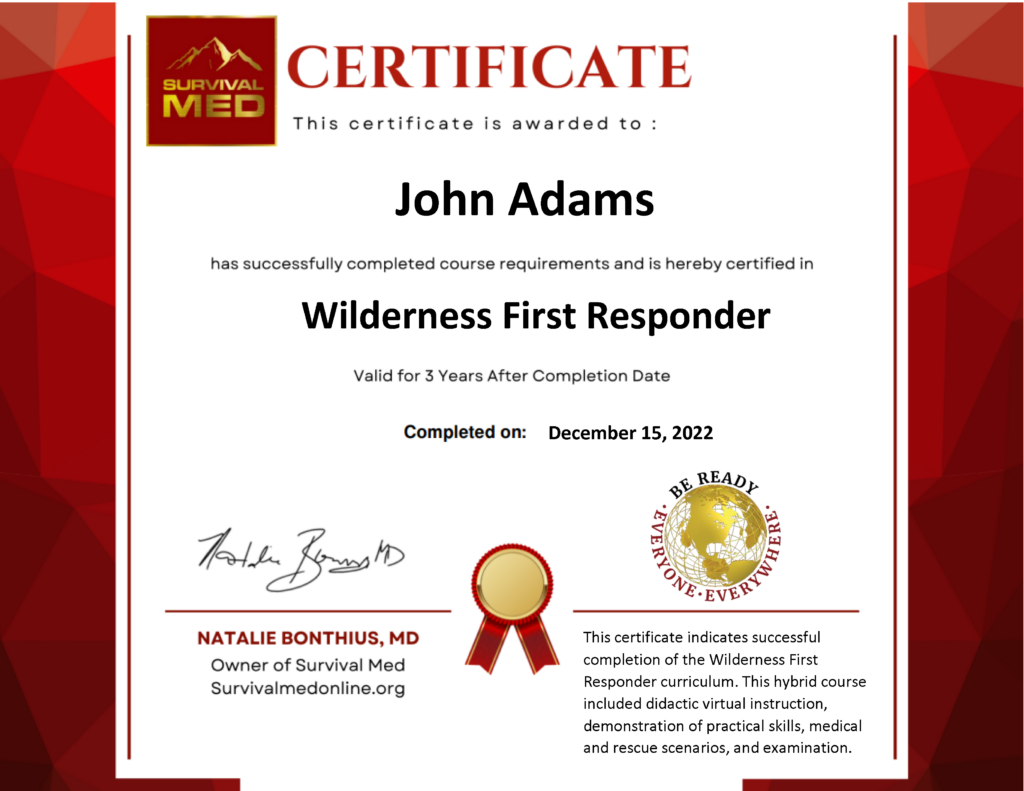 Final multiple-choice WFR Certification Exam and certificate (good for 3 years).  If you need the "Wilderness EMT" designation, submit proof of current EMT license.
Frequently Asked Questions
The NOLS course was too much info, too fast. This course, being self paced, was the ticket for me. Natalie was always available to help with questions, and the lectures were well organized. I filled out the study guide as I went through the lectures and used that during the exam. As an alternative to the much more expensive 8 day courses, I would highly recommend this online course.
I had been given a last minute directive to have WFR within a month or lose a seasonal job. I was about to pay MUCH more with the additional expense of lodging for a NOLS course when I found this course. I found this course engaging, stimulating, and appreciated being able to do it at home and at my own speed. Dr. Bonthius was attentive and answered my questions quickly. It was a great mix of online learning and the "personal" practical demonstration of skills. Thanks so much for helping me save money and perhaps my summer job!
A strong format that highlighted important aspects but also ensured thorough knowledge of all contents. Helpful notes were given at submission of materials and easily accessible during the duration of the course!
Excellent content and great value! I recommend this course.
Tremendous value! Great learning, great experience all around. Course materially thoughtfully conveyed via efficient and effective modules with accompanying study guide -- made self-paced learning easy. Now I'm ready to hike the PCT with confidence. Thanks Doctor Bonthius and team!
I loved that I could do this at my own pace. Originally I planned to just pound it out and then life got in the way. If it would have been in a traditional classroom setting I might have needed to bail. The videos are great and the information is short, sweet and to the point which is how I like my information most of the time. I would recommend improving the videos Matt is in though. He lacks energy and sometimes it feels like he is rushing through things. His videos do the job though. The responses to email, questions and final submittal were fast and efficient. I loved that there were requires videos and pictures to take as well. No just sitting behind a computer monitor. Thanks for everything!
I loved this class. The option of doing this virtually saved me so much time and money. I had to get my WFR re-certified for my job, and I was really stressed out that I wouldn't get it done in time. Dr. Bonthius helped me a lot and I was able to get it all done. She was extremely responsive and accommodating. I would recommend this class to anyone- it was lifesaving (figuratively AND literally) for me. Many of the other guides in my company have joined now. THANK YOU
I so, so appreciated this class. I have to admit, I was skeptical of this early on. I was hesitant to do it online because I wasn't sure how it would compare to the in-person classes I've taken in the past. But this was extremely well-done. I liked being able to learn the material at my own pace. It made me realize how inefficient some of the in-person classes can actually be. I feel like I've retained much more of the information, especially the skills I'm most likely to end up using. I'll be referring the rest of my search and rescue team to this class. Thank you!
I really appreciated the course. I work full-time in Indiana and also guide in Grand Canyon seasonally for an REI-contract company (backcountry trips north & south rims), so WFR was an imperative for me! Being able to navigate the course without missing work (& the cost of travel to get to a course) was terrific. But, primarily, the course materials are very well done and I liked the added podcasts and video demos. (There was one podcast that said "unavailable"- I'll try to find that for reference.) But, I was able to go back and rewatch several chapters (almost all of them actually) and that, plus the study guide, reinforced the learning in a way that live lectures crammed into a single week could not do. I am very pleased and am more than happy for you to use my submissions if it helps in your work. Thank you, again, for the obvious hard work it took to put this all together and offer it us in such a useful manner. (Frankly, I think you are undercharging for the value added/benefit of this course!).
Fellow in the Academy of Wilderness Medicine (FAWM) Candidate
Advanced Wilderness and Expedition Provider (AWEP)
Advanced Wilderness Life Support
International Association of Near-Death Studies (IANDS) Board Member
Richard Ingebretsen, MD PhD
University of Utah School of Medicine clinical instructor
Program Director, University of Utah "Wild Med U" Program
Medical Director, Salt Lake County Sheriff's Search and Rescue
Former Associate Dean of Students Affairs, University of Utah College of Science
Founder of the Glen Canyon Institute
Vice-Chair of Southern Utah Wilderness Alliance
Founder of Wilderness Medicine of Utah
Owner of River Bound Adventures
Firefighter/Paramedic, Jackson Hole Fire/EMS and Grand Teton National Park
Award-winning author of Wild Rescues, Lights and Sirens, and Beneath Blossom Rain
Graduate of UCLA'S renowned Daniel Freeman Paramedic Program
Board Certified in Internal Medicine, Pulmonary Medicine, Critical Care Medicine, and Sleep Medicine
Advanced Cardiac Life Support (ACLS)
Advanced Trauma Life Support (ATLS)
Owner – Somnopath, LLC-medical science consultant
Owner – Medical Media Consulting