Life comes at you fast.
Be ready.
Low-cost high-quality wilderness medicine & outdoor safety education accessible to everyone everywhere.
Widely Accepted Wilderness First Aid, Wilderness First Responder & Wilderness-EMT Certifications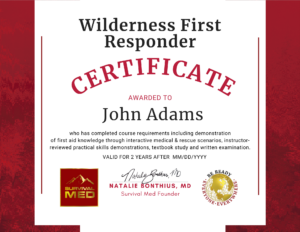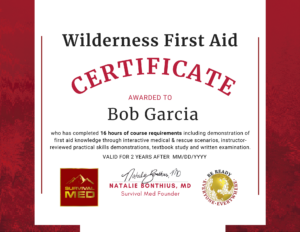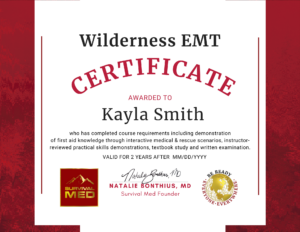 ACCEPTED BY
U.S. National Park Service, USDA Forest Service, Natl Assn for Search & Rescue, ACA/PaddleSports (American Canoe), The Mountaineers & many more mountain rescue teams, ski/beach patrols, SAR teams, local Sierra chapters, guide & expedition businesses
Benefits of Online Wilderness First Aid Courses
Take courses where you choose—at home or on a mountaintop.
Join interactive online sessions or watch self-paced video classes anytime.
Pay far less than in-person classes, without travel costs or schedule disruption.
14000+ Students on 7 Continents since 2021.
"You helped me save his life."
"Last week, I was on a hike with my five-year-old cousin when he was stung by a bee and had an anaphylactic reaction. I am so glad I took your WFA course. I was able to help him take both doses of his epi pen, something I learned from you guys. I just wanted to write to you guys and let you know that you helped me save his life. Thank you for everything you're doing." ~M. Hein, 2022
"The interactive scenarios were incredible."
As an EMT and Search and Rescue Member, I wasn't sure how useful the Basic Wilderness Survival class would be, especially online. But I was humbled. I learned so much practical information in just a few hours and realized there are many areas that I was weak in. The interactive scenarios were incredible and I felt like I was right there. I cannot recommend this course enough to anyone who spends time in the outdoors." ~J. Rodriguez, 2022
"My son and I took this class."
"I am so glad my son and I took this class. He and his buddies are at an age where they like to explore on their bikes in the backcountry. Many places have a minimum age, so I am glad for his class through you there is none. I feel better about him going out with friends and am hoping his friends get their Wilderness First Aid as well." ~M.A. Ferguson, 2022
"Their method of teaching & testing the practical skills is so creative..."
"I've had my EMT license for 10 years and I've always been interested in wilderness medicine. I decided to take the virtual Wilderness First Responder course so I could get the Wilderness EMT certification. I am so glad I did it through Survival Med. The virtual option was great because I could do it in the evenings, on my own time. I could review the material as much as I wanted and spend my time on the topics that were most interesting to me, like altitude illness and hypothermia. I saved almost 1.5K by taking this online. I cannot thank you guys enough." ~B. Zellmer, 2022
"I loved that it was completely self-paced. I've watched it three times."
"I took the Basic Wilderness Survival course and absolutely loved it. I learned so much and I loved that it was completely self-paced. I've watched it three times. I would recommend it to anyone. It's fantastic whether you have a lot of experience in the backcountry, or if you're just getting started." ~L. Sanchez, 2022
"...Conducting this training remote was as effective as in person."
"This course was exactly what I was looking for. The capability of conducting this training remote was as effective as in person, when you are being evaluated skills performance recordings, written exams, scenario based testing it prepares you to succeed. I will continue training with the skills learned, and the best part is I have access to the materials to refresh and practice/review as often as I need. Let alone the time I was able to take and go at my own pace to absorb the materials. Thank you SurvivalMed!!!!" ~R. Schneider, 2022
Doctor-led classes including hands-on skills training—at a fraction of the cost of in-person classes.
Comprehensive Online Training for Medical Emergencies & Survival in the Wilderness
Do you want to be better prepared for an outdoor emergency?
Every Survival Med class is developed and taught by physician-experts in wilderness & emergency medicine.
Our 100% online format lets you learn at your own pace, from the comfort of your own home.
It's the same content as in-person training—at a fraction of the price.
Because everyone everywhere deserves these life-saving skills.